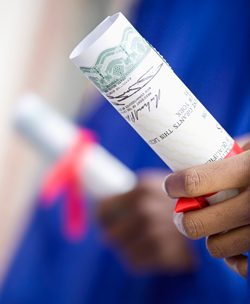 Texas has recommended the use of programs of study for several years and offers some of the best resources available in the United States. Many states consider the Texas Education Agency (TEA) AchieveTexas template a best-practice option when developing programs of study.
A program of study is a comprehensive education plan that may identify a recommended curriculum; extended learning experiences; options for obtaining college credit in high school; value-added components, such as appropriate certification and licensure options; and clear support of the post-secondary transition.
With the passage of House Bill 5 (HB5) in 2013, the Texas Legislature introduced significant changes to curriculum, assessment, accountability, and graduation requirements that will affect Texas educators, students, and families. One of the key changes is the restructuring of graduation requirements and credentials. Beginning in the 2014-2015 school year, entering high school freshmen will choose a program of study leading them toward an endorsement through the Foundation Graduation Program with Distinguished Level of Achievement options. Students will be advised to pursue one or more endorsements in a particular college and career readiness focus area.
The changes outlined in HB5 aim to support young people in graduating ready for college and career, with a range of knowledge and skills that will prepare them for post-secondary success. The addition of endorsements creates an exciting opportunity for students to connect their personal graduation plans to career clusters and programs of study—both organizational frameworks that guide students' course plans based on their individual interests and career goals. This lesson will investigate the purpose of career clusters and programs of study, clarify how they connect to the endorsement provision of HB5, and explain how they are used concurrently with personal graduation plans.