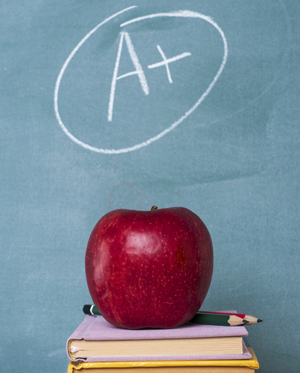 By the 2016-2017 school year, school districts will be moving toward an A through F grading system. Schools that receive an A, B, or C grade will meet the standards for basic educational provision; those who receive a D or F will not.
There are two important changes to this new grading system of which to be aware:
Students in residential facilities are no longer taken into account when calculating district ratings.
Immigrant and English language learner (ELL) students have to be enrolled a minimum of 60 days before they can be included in accountability calculations.
Districts and campuses will also determine criteria aligned with individual needs and assign themselves an overall performance rating of exemplary, recognized, acceptable, or unacceptable.
Districts will self-evaluate and report results
In addition, beginning in 2014—and every year by August 8 thereafter—districts will self-evaluate and report results in the following areas:
Student performance
Distinction designations
Financial rating
Additional campus distinctions (including areas of achievement, such as closing the student achievement gap, academic achievement in core content areas, or EOC performance in junior high or middle school)
Community and student engagement
Community and student engagement is a new component of the accountability system introduced under HB5. Community and student engagement asks districts and campuses to select criteria that allow them to self-assess how successfully they are involving families, students, and the community in school culture and decision making.
The dashboard will include the following criteria (among others):
Student achievement
Student progress
Closing performance gaps
Post-secondary readiness
Activity
Take a moment to visit this webpage to view up-to-date information for HB5.